Here's your humble reporter, recently called 'uncivil' by a rabid passenger rail advocate, coming to you with further musings and additions to yesterday's post, which featured Brunswick's favorite local majorette.
We're going to try to cut to the chase quickly, but before we do, we must confess that we gave some thought today to renaming our publication. Other Side of Town seems woefully inadequate at this juncture in our civic lives. so the idea of changing it to "The Under Side of Town," or even "The Dark Side of Town," crossed our minds. We have beaucoup reasons to do so, but we tabled the idea for now.
===============================================================
So… on to the thoughts & news of our moment. Recall this passage from Ms. Knox letter to the Auburn City Council:
In Brunswick there are many people who travel regularly, once a month or more often, to Boston to augment or to complement the medical treatment available to them locally in Maine. The advanced medical treatment providers in Boston offer van service to meet each train arriving, so the trip is easy and reliable, and well-suited to the needs of these patients. Also in Brunswick, numerous semi-retired academics and others with distinguished careers in several fields commute to Boston to lecture as adjunct professors.
It occurred to us to ask why said 'many people' haven't considered taking Brunswick Taxi to their destinations in Boston. Local taxpayers coughed up a quarter millions dollars ($247,000 for the uninformed) to replace their entire fleet something like three years ago. They have door to door service, are at your beck and call, and could certainly use the business. 24 hours a day, your fellow Brunswick citizens are just waiting to serve you.
Shirley the 'many people' prioritize patronizing local businesses over the unknown corporate interests behind the Amtrak scheme. Here's a chance for our 'distinguished' retirees and semi-retirees in 'several fields' to demonstrate their commitment to our community. And they just might get an FU pennant for giving them their business.
==============================================================
Next item: speaking of alternatives, did you see the announcement today coming from State Government? Looks like Augusta is backing transport diversity and fiscal prudence in providing alternatives to citizenry around the state.
Media Advisory: Governor to announce bus service from Auburn to Portland

October 20, 2015

AUGUSTA – Members of the media are invited to attend a press conference with Governor Paul R. LePage at 3 p.m. on Wednesday, October 21 to learn more about two new Auburn bus stations coming in 2016, as well as a new bus service that will provide Lewiston-Auburn residents with transportation to Portland.

The two bus stations are slated for construction in Auburn in 2016, with new service anticipated to start in early 2017. The new Downtown Auburn Transportation Center will be at 14 Great Falls Plaza in Auburn. The second station will be at Exit 75 off the Maine Turnpike.

Both stations will serve the Lewiston-Auburn fixed route bus service, Citylink, as well as provide enhanced regional connectivity through a new Concord Coach Line bus route. The route will begin at Bates College in Lewiston, stop at both new stations, then proceed to the Portland Transportation Center with connections to Boston.

Governor LePage will be joined by David Bernhardt, Commissioner of MaineDOT; Jonathan LaBonte, Mayor of the City of Auburn; Peter Mills, Executive Director of the Maine Turnpike Authority; Harry Blunt, President of Concord Coach Lines; and Phil Nadeau, Chairman of the Lewiston/Auburn Transit Committee.

WHEN: 3 p.m., October 21, 2015

WHERE: Great Falls Plaza, Auburn
Wow! What an idea! The service can start immediately without taxpayer 'investment' of hundreds of millions of dollars!
This gives us an idea, which will likely be seen as warped by The Booch, ET, Ms. Knox, and the rest of the trainies. But here it is. The Brunswick MLF, just starting construction for $14 million (at least), and the related proposal for a Royal Junction siding costing $8.5 million, are entirely rationalized by a pressing need to run more Downeaster round trips between Brunswick and Portland.
Memo to ALCON: three more round trips per day, or four, or five even, could be accomplished in a finger snap by engaging Concord Coach in the same way they're adding service between Auburn and Portland. They already service the Brunswick-Portland market, so all it takes is drivers and buses to service the new service. It could begin….let's speculate…by the first of the new year, and the MLF and Royal Junction proposals could be cancelled and the allocated funds used for other beneficial purposes.
Oh wait….the carriage set won't like riding on buses…too evocative of the Greyhound terminals of yester-year. Even though their handbags and messenger pouches will be ably loaded aboard by the driver. Alright then, why not add the service with this type of bus:
Why? You know why as well as we do. The beautiful people of the carriage set demand their tribute; they must have what they must have, and we must pay for it. You don't expect them to ride on a bus, do you? Have you no dignity, sir? Ma'am?
===================================================================
Now for tonight's last little info blast. Ms. Knox linked us to an Amtrak brochure in her letter to Auburn City Councilors that contained this passage:
Ms. Knox referenced the words herself:
As the study notes, the town estimates that public funding of $5.2 million in federal, state, and local funds, has generated private investments of $25 million in the community. The valuation of Brunswick Station property itself went from $676,700 in 2008 to $6,725,400 in 2011, even in anticipation of Downeaster service which was initiated in November 2012. Development spurred by the service is a source of valuable tax revenue to the town, and more importantly, the Brunswick Station development has created 97 new full time jobs.
As we are wont to do, we decided to follow up on this information, so we stopped by the Brunswick assessor's office. Here's what we came up with:
2 Station Avenue, the former Bowdoin Store, now occupied by Edible Arrangements and Magic Ear, and owned by JHR Development: taxable asset value, $400,600, and a tax bill of $11,361.
6 Station Avenue, the Midcoast Federal Credit Union, who owns the property, with a taxable asset value (TAV) of $493,200, and property taxes of $13,987.
16 Station Avenue, the eastern half of the main Brunswick Station building, owned by JHR Development: TAV, $2,050,500, and property taxes of $58,152.
22 Station Avenue, the western half of the Brunswick Station building, owned by JHR Development: TAV, $2,037,100, property taxes $57,772.
4 Noble Street, the Brunswick Hotel and Tavern, owned by "Maine and Noble LLC" of Marblehead, MA (guess who that is!), TAV $4,077,500, property taxes $115,637.
If we did this correctly, the aggregate assessed value of the Brunswick Station Development, including the Hotel and Tavern, is $9,058,900. And total property taxes generated adds up to $256,909.
So on the face of things, the "$5.2 million in federal, state, and local funds" has "generated" private investments of less than $9 million, keeping in mind the MFCU is not part of the promotional mix here. Not $25 million in private investment by the developer.
Now we suppose someone might come back to us saying that we simply went by taxable value, not actual dollars invested in the properties. Fine; go ahead and play that card.
In which case we'll play the card that says the town has grossly under-assessed a $25 million development, not even taking the TIFs and other arrangements into account.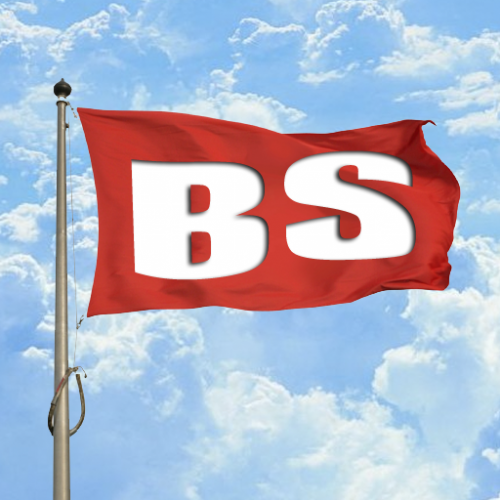 Either way, we think flags should be flying, and Ms. Knox and her AAB groupies should rework their story. Especially if they want to sell it to others who might not be as gullible as they are.
That's "The Other Side" for today, fun-seekers! And don't even get us started on the 98 jobs claim.